The lost 35 years of the Japanese semiconductor industry
The 1980s was the golden age of semiconductor manufacturing in Japan. At its peak in 1988, Japanese semiconductor production accounted for nearly half of the world's total, and in 1990 six Japanese companies were listed in the world's top 10 semiconductor manufacturers.
However, as trade friction between Japan and the United States heated up after that, the United States gradually expanded the targets of its pressure, from textiles and steel to automobiles and color televisions. In response to these moves, the Japanese government became passive and signed treaties one after another. The impact of the "Japan-US Semiconductor Agreement" was especially large, and the Japanese semiconductor industry began to decline.
The stranglehold from America certainly had a big impact, but Japan had its own problems. Former Minister of Economy, Trade and Industry Koichi Hagiuda believes that the decline of Japanese semiconductors is related to pressure and counterattacks from rivals such as the United States, but that Japan's own mistakes in strategy and tactics have caused its decline and setbacks. showing.
When Taiwan Semiconductor Manufacturing Co., Ltd. (TSMC) was established in 1987 and the division of labor was adopted, semiconductor design and manufacturing were separated. At that time, the Japanese companies that dominated the global semiconductor industry were accustomed to the old methods and did not try the new method of separating design and manufacturing. Japan's decline was also caused by its attempt to put almost the entire industrial chain within its reach.
Japan's semiconductor industry has long assumed that wafer foundries are lagging behind, representing old technology and labor-intensive industries that are just cheap contract manufacturing. Looking back now, manufacturing technology has evolved, and the construction of new factories and production lines, and the depreciation of old equipment have become the largest costs in semiconductor manufacturing. It is much better to outsource production to a foundry such as TSMC.
It took a while for Intel and Samsung to realize this, but in the end they managed to keep up with the times. Only Japan didn't give up and let their chances slip away.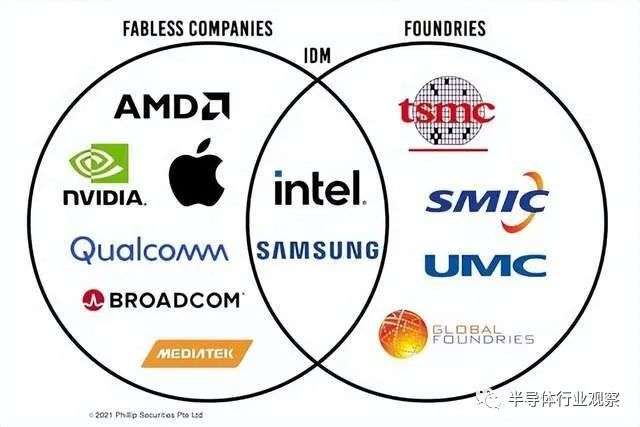 With the development of science and technology and the market, semiconductor supply has become a worldwide division of labor. Through design, manufacturing, packaging and testing, it becomes a product and is delivered to all over the world. As a result, production efficiency has improved dramatically, and companies have been able to effectively reduce costs. However, Japanese companies were still stuck with old-fashioned production methods, and were unable to scale up and produce efficiently. .
By the time Japanese companies realized the need for a division of labor style in semiconductor manufacturing and the decline of the domestic semiconductor manufacturing industry, it was already too late. Wafer OEM requires a large amount of investment and advanced technology, and it takes a long time to recover the funds. The huge market had already been taken by manufacturers in Taiwan and South Korea.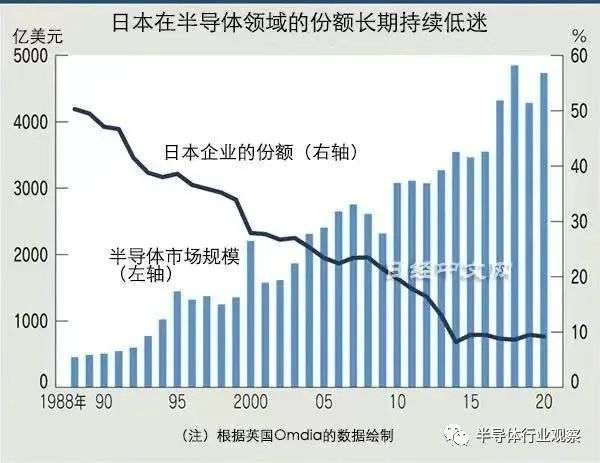 Long-term trends in Japan's share of the semiconductor industry (from the Nihon Keizai Shimbun Chinese site)
The share of the Japanese semiconductor industry field was 50% at the maximum, but it has fallen to less than 10% in 2020. The decline of the manufacturing industry, which was once the most vigorous, is severe, and Japanese companies have disappeared from the industry's top group companies.
Since then, the situation has changed and uncertainties have increased in the global semiconductor supply chain, and Japan has moved to revive its domestic semiconductor industry.
Aiming for Japan to rebound
At the April 2020 conference, Japan discussed measures to support domestic investment in response to the global supply shortage of semiconductors, and came to recognize the need to build a decentralized supply chain.
Japanese electronic parts factories are moving back to Japan, and Murata Manufacturing, Rohm, Japan Display, etc. have begun to consider moving their overseas manufacturing bases to Japan.
According to data, about 13.3% of Japanese companies with overseas factories have already moved their factories to Japan. The 3.8% increase in Japanese machinery manufacturing orders in April, worth nearly $8 billion (approximately ¥1 trillion), is clearly related to the return of overseas factories to Japan.
On May 31, the Japanese government approved the 2022 White Paper on Manufacturing, and once again emphasized the importance of competitiveness in the semiconductor industry.
Stimulated by global market movements and government policies, Japan has renewed its determination to revive its semiconductor industry, and is trying to revive its domestic semiconductor industry and restore it to its former glory. With its superiority in materials and equipment, Japan set its sights on semiconductor manufacturing.
Attracting TSMC
Japan's first attack target was TSMC, the world's largest wafer foundry.
In February 2021, TSMC announced that it would invest up to $186 million (about 25 billion yen) to establish a subsidiary in Japan to research 3D ICs.
It's worth noting that the partnership is aimed at advanced 3D packaging technology, not chip manufacturing. TSMC leads the pack in advanced manufacturing processes. Establish a research base in Japan to take advantage of the superiority of materials and equipment, and focus more on the research and development of 3D packaging technology. Japan also plans to use the alliance with TSMC as an opportunity to support the competitiveness of its own semiconductor companies. Construction of the packaging test line began in the second half of last year, and official research and development is scheduled to begin in 2022.
Hideki Wakabayashi, a professor at the Tokyo University of Science, commented, "Currently, the added value of the back-end processes of semiconductor manufacturing continues to rise. If Japan can take a step forward here, it will regain its edge in the competition in the semiconductor field." It pointed out.
The opening of TSMC's research lab is sure to boost the morale of the Japanese semiconductor industry, but it didn't stop there. The Japanese government spared no effort in subsidizing TSMC's factory, and on June 17, the Ministry of Economy, Trade and Industry decided to provide subsidies amounting to 476 billion yen. TSMC has partnered with Sony and Denso to invest $8.6 billion (approximately ¥1.14 trillion) in Kumamoto Prefecture to build a factory that is expected to create 1,700 jobs.
Construction of the factory started in April, and the monthly production capacity of 10-20nm (nanometer) level semiconductors is expected to reach 55,000 by the end of 2024. Under the plan, 20 semiconductor companies, including Asahi Kasei, Ibiden, and JSR, will partner with TSMC, with the aim of restoring the competitiveness of Japanese semiconductors.
The government subsidy for the construction of TSMC's Japanese factory is seen as the key to improving Japan's semiconductor manufacturing capacity. Regarding this, Tetsuro Azuma, chairman of the government's "semiconductor and digital industry strategy study council", said that this is still not enough, and if he wants to revive the semiconductor industry, tax reduction incentives will be necessary next year. He believes that annual corporate investment should reach around 10 trillion yen.
Mr. Higashi also said that Japan's semiconductor industry has been sluggish for decades, and that increasing subsidies would be an opportunity to bounce back from the recession, but without the initial government investment, private companies will not invest. I don't think so.
Furthermore, given the current shortage of semiconductors, countries around the world are expanding their manufacturing capacity and increasing subsidies. The US has already invested $52 billion (approximately 6.98 trillion yen), and has also invited TSMC and Samsung to build factories. Similar trends can be seen in China, Europe, and Singapore.
In order to meet the market demand, companies other than TSMC are actively moving along the Japanese industrial chain.
Auto parts manufacturer Denso has partnered with United Semiconductors Japan (USJC) to open a power semiconductor manufacturing plant to manufacture automotive power semiconductors to meet the ever-increasing demand from the automotive market.
Installed an insulated gate bipolar transistor (IGBT) production line at the USJC wafer factory. This will be Japan's first IGBT production on a 300mm (12 inch) wafer. Combining Denso's IGBT device and process technology with USJC's 300mm wafer manufacturing capacity, IGBTs will be mass-produced. Production is scheduled to start in the first half of 2023.
Collaborate with the United States to develop 2nm semiconductors
"There are no eternal enemies, there are only eternal national interests." From aid in the past, to pressure later, to stifling, and again to current cooperation, the two letters of profit have always prevailed.
In May of this year, Japan and the United States agreed on basic principles for semiconductors. President Biden and Prime Minister Fumio Kishida agreed to strengthen semiconductor manufacturing capabilities and strengthen cooperation on advanced manufacturing. Former Minister of Economy, Trade and Industry Hagiuda described this as a "strange fate" at the end of a visit to the United States in May.
According to a report in the Nihon Keizai Shimbun, based on the content of the discussions that the two countries agreed on, they will complete a manufacturing base for 2nm semiconductors in Japan by 2025 at the earliest, and prepare for mass production and commercialization competition using next-generation advanced processes. The possibility of establishing a new company cannot be ruled out. In addition, it is reported that the Japanese government will provide funds to support Japanese companies' research into next-generation semiconductor manufacturing technology following 2nm.
This means that the speed at which Japan plans to commercialize 2nm technology is at the same level as industry leaders TSMC, Samsung, and Intel.
In 2nm research and development, IBM, which has the ability, has already developed a prototype last year, and Intel is also conducting research. In Japan, a project is underway at the Tsukuba Center of the National Institute of Advanced Industrial Science and Technology to develop manufacturing technology for next-generation semiconductor production lines, including 2nm manufacturing technology. Semiconductor manufacturers such as Tokyo Electron and Canon are also participating.
In addition, Japan has major semiconductor material suppliers such as Shin-Etsu Chemical and Samco, and the United States also has Applied Materials, a major semiconductor manufacturing equipment company. Aiming for smooth realization of 2nm semiconductor mass production technology with the cooperation of major suppliers.
Although TSMC will build a factory in Kumamoto Prefecture, it will only manufacture 10-20nm chips. Japan can make up for the semiconductor gap by attracting TSMC, but it will not miss the opportunity to join hands with the United States to catch up with next-generation technology.