The company expects to start producing 3-nanometer chips in Tainan in the second half and 2-nanometer chips at new factories in Hsinchu.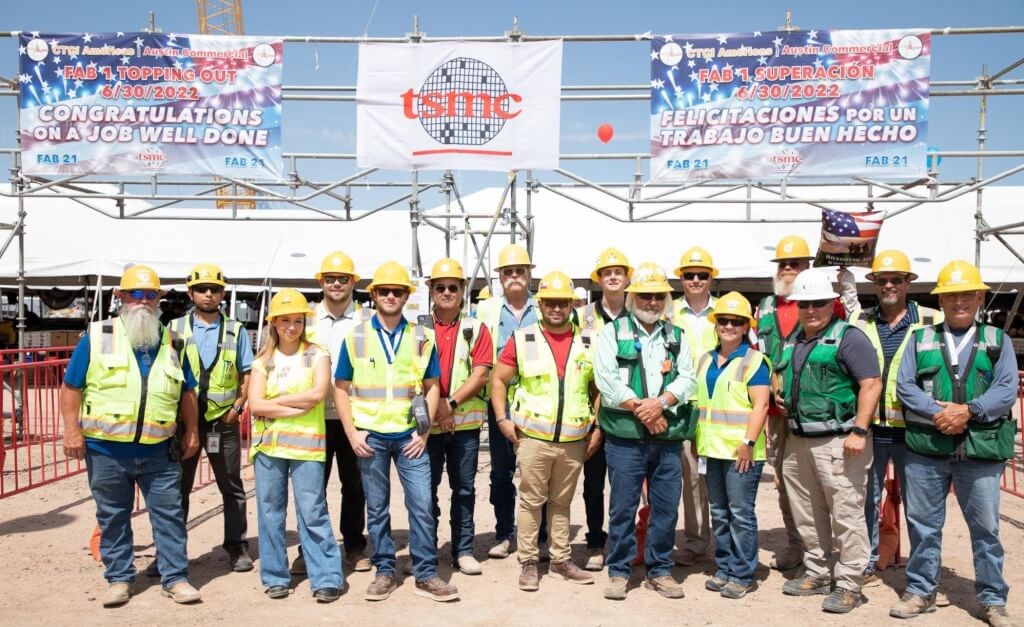 Taiwan Semiconductor Manufacturing Co (TSMC) said that three new plants in Kaohsiung, Japan and the US would start production in 2024, as it accelerates its capacity expansion to cope with growing semiconductor demand.
Apart from the two fabs that are under construction in Arizona and in Kumamoto, Japan, the world's biggest contract chipmaker plans to start building a new fab in Kaohsiung in the second half of this year, TSMC vice president Y.L. Wang said at the firm's annual technology symposium in Hsinchu.
The Kaohsiung fab, dubbed Fab 22, would produce 7-nanometer and 28-nanometer chips once it begins operations in 2024, Wang said.
The Arizona fab is to make 5-nanometer chips and the Kumamoto fab is to produce chips using specialty process technologies, he said.
To satisfy customer demand, TSMC is not only increasing leading-edge technology capacity, but also mature-node technologies, Wang said.
TSMC expects its advanced technology capacity to expand at a compound annual growth rate of 70 percent from 2018 to this year, thanks to robust demand for chips used in smartphones and high-performance computing devices such as servers, Wang said.
This year alone, the company's 5-nanometer chip capacity would more than quadruple from two years earlier, he said.
On top of that, TSMC plans to produce 3-nanometer chips in the second half of this year, Wang said, adding that 3-nanometer capacity is expected to increase rapidly at its Tainan fabs to cope with customer demand.
Because of substantial customer demand for 3-nanometer chips, the company's engineering capacity is tight, TSMC chief executive officer C.C. Wei said at the symposium.
The chipmaker plans to produce next-generation 2-nanometer chips at new factories in Hsinchu, Wang said.
TSMC is also stepping up its efforts to expand specialty technology capacity to meet rising demand for image sensors and radio frequency chips, Wang said.
Capital investment for specialty technologies would grow about 4.5-fold compared with the average outlay over the past three years, he said.
That would boost the capacity contribution from specialty technologies to about 63 percent of total wafer capacity this year, compared with 45 percent in 2018, he said.
The chipmaker has been expanding capacity faster in the past few years with an average of six factories built each year from 2018 to this year, compared with two factories from 2017 to 2019, Wang said.
However, TSMC said that chip manufacturing costs are rising rapidly, as China, Japan, the EU and the US are pushing to localize chip manufacturing to boost the resilience of their chip supply amid geopolitical tensions.
It is going to be costly if manufacturers reverse the globalization that has created economic benefits, Wei said.
In addition, TSMC has been making chips using specialty technologies at existing factories without the burden of depreciation and amortization costs, he said.
To make enough specialty technology chips to meet rising demand for vehicle chips and other applications, TSMC is building new factories, but would charge more for the chips due to depreciation and amortization costs, as well as the high cost of equipment tools, he said.
By Lisa Wang, source https://www.taipeitimes.com/News/biz/archives/2022/08/31/2003784445