UTAC Holdings Ltd. (UTAC), a global semiconductor test and assembly services provider, has installed a solar photovoltaic (PV) system at its Singapore factory, helping UTAC to reduce their carbon footprint and extend sustainability initiatives that have already cut the Company's CO2 emissions by 38% since 2012. Completed on June 15 this year and now fully operational, this PV system maximizes available rooftop space at USG1, UTAC Serangoon's factory site in Singapore, for on-site clean energy generation. The system enables the company to generate over one million kilowatt-hours (kWh) of electricity per year, offsetting its operational consumption needs and saving 467,000 kg of CO2 emissions. This is equivalent to taking 100 cars off the road for a year.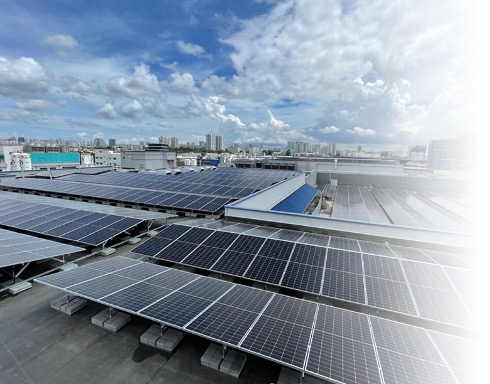 "We continue to do everything we can to improve our ESG profile, building on our accomplishments to date," said John W Nelson, CEO and president of UTAC, "Over the last 10 years we have reduced electricity demand across the enterprise by more than 19%, which has enabled us to fulfil a significant proportion of our needs from our new renewable capacity."
UTAC's partner in the solar PV project, Sembcorp Industries, is a leading energy and urban solutions provider, with a portfolio of 7.1 gigawatts (GW) of gross renewable energy capacity globally. "Sembcorp is proud to be a part of UTAC's sustainability journey in adopting renewable energy for their business. The continued decarbonisation of the semiconductor industry will be key in achieving Singapore's national climate goals. We are encouraged by the positive reception of industry players like UTAC towards on-site renewable energy generation for their daily operations' use," said Fendy Nursalim, General Manager, Sembcorp Solar Singapore.
This project is one of the recent example of our company's many sustainability initiatives since 2012 on their path to a zero footprint for all sites across the globe. In 2020, UTL, UTAC's Thailand site, also installed solar panels on its roof and on a larger scale, removing over 2,000,000 kg of CO2 emissions per year. This is equivalent to taking 450 cars off the roads for a year.
UTAC is actively working to improve environmental, social, and governance (ESG) credentials continuously and has additional ongoing projects including water savings schemes as well as recovering and recycling water from manufacturing processes. There are also significant initiatives to increase energy efficiency and reduce waste throughout the enterprise, including upgrading machinery with advanced variable-speed motor drives and installing solar lighting.
Source https://www.utacgroup.com/wp-content/uploads/2022/09/UTAC_Singapore-Solar-Project.pdf