Merck has entered into a definitive agreement to acquire Mecaro Co. Ltd.'s chemical business. (Mecaro), a Korea-based and publicly traded manufacturer of semiconductor heater blocks and chemical precursor products. The acquisition is part of the "Level Up" growth program of Merck's Electronics business sector. This envisages investments of well over €3 billion from 2021 to 2025 and is based on four mutually supportive core priorities: capacity, technology, portfolio and skills.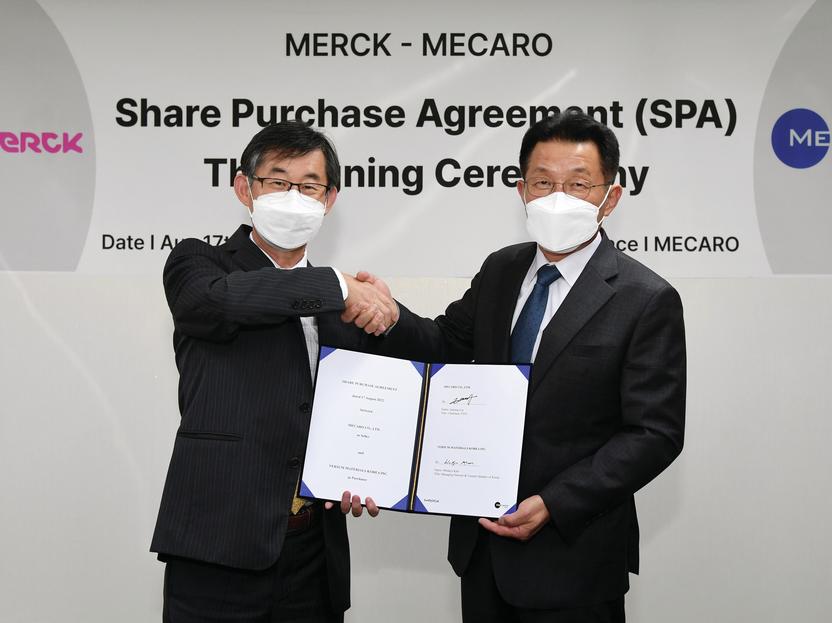 Mecaro's chemical business has around 100 employees and primarily develops and produces precursor products for thin film deposition.
"By acquiring this part of the Mecaro business, we will further expand a key segment of our portfolio in the Semiconductor Solutions division. At the same time, we are strengthening our local presence and adding a state-of-the-art manufacturing facility in Eumseong and a research and development laboratory in Daejoen to further expand our capabilities. The operational facilities will be key building blocks of our investments in Korea as part of Level Up," said Kai Beckmann, Member of the Merck Executive Board and CEO Electronics.
The acquisition of Mecaro's chemicals business is another milestone in accelerating innovation in Merck's Semiconductor Solutions business through targeted small to medium-sized acquisitions with high impact. Semiconductor Solutions is one of the company's three major growth drivers ("Big 3").
"In Merck, we have found a partner that not only shares the same values ​​as Mecaro, but also has the scale to successfully drive this business forward for the benefit of our customers and employees," said JaeJung Lee, President and CEO of Mecaro Co .ltd
"The offer of Mecaro's chemical business complements our broad portfolio of semiconductor solutions very well. The combination of Mecaro's expertise in thin-film technology with our global presence will offer our customers additional added value," said Kai Beckmann.
The transaction amount includes an upfront payment of €75 million and payments linked to the achievement of milestones of up to €35 million, which corresponds to a total transaction value of up to €110 million. The transaction is expected to close in the fourth quarter of 2022 and is subject to regulatory approvals and the satisfaction of other customary closing conditions.