The semiconductor manufacturing world has seemingly flipped in a few months, with multiple fab buildouts and expansions slowed or delayed. Today we will address these slowdown rumors by company, specific fabs, geography, and class of semiconductor devices. This includes slowdowns we have heard about for expansion at giants such as TSMC, Intel, Samsung, Micron, SK Hynix, and more. As a reminder, we track 112 ongoing and planned expansions within the supply chain. Based on this and sources within the supply chain, we will share our wafer fabrication equipment expenditure estimates for 2022, 2023, 2024, and 2025 for foundry, logic, NAND, and DRAM each.
By Dylan Patel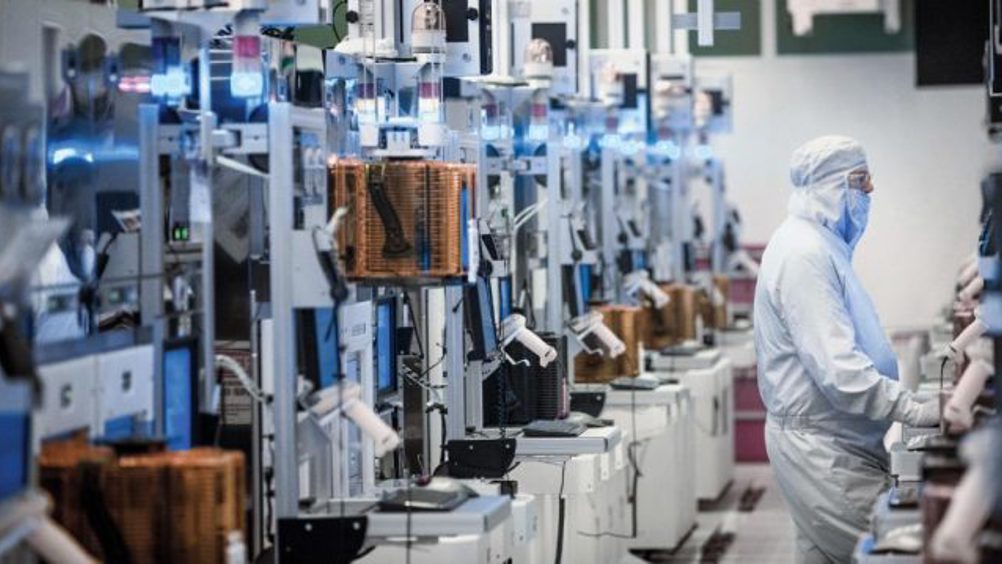 Before we dive into our projections, let's start by level-setting the historical figures, as different sources will estimate these freely. The core metrics to watch in this industry are semiconductor revenue, capacity additions (wafer fabrication equipment), and existing capacity (millions of wafer square inches shipped).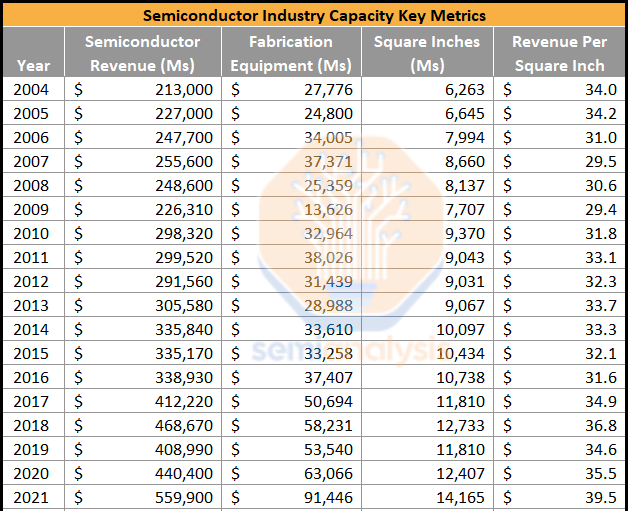 The key metric determining margins for the fabs and the industry is revenue per unit area of silicon. As such, we track this metric very closely alongside capacity adds. Industry margins have soared as revenue per square inch increased rapidly in 2021. This metric will not remain this high. Current and future fab buildouts will bring it below historical levels.
Much of the capacity here is older than 300mm, 90nm to 28nm. These nodes tend to run much lower revenue per shipped square inch. They continue to ramp to a larger portion of shipped square inches, especially in Chinese fabs.
To dive deeper into historical figures, here are our figures for front-end wafer fabrication equipment by semiconductor device type.

Now let's get into projections. Even the industry group, Semi, has cut their 2022 figures to a mere 9% year-over-year growth, but we believe their figures lag behind reality. We have 2022 WFE down 0.6% versus 2021. The breakdown for spending from 2022 to 2025 will be shown at the end of this report. The market is very dynamic, and there are delays out of 2022 for specific fabs and entire segments. China has been the biggest contributor to growth over the last few years. We believe that Chinese wafer fabrication equipment purchases will be down 14% year-on-year, primarily due to utilization rates dropping rapidly. There is also a component of fraudulent companies being taken down, with more than a dozen arrests and general prudence surrounding semiconductor subsidies in China.
The lion in the room is, of course, memory. Micron, Samsung, SK Hynix, Kioxia, and Western Digital.
"We made significant reductions to CapEx and now expect fiscal 2023 CapEx to be around $8 billion, down more than 30% year-over-year. WFE CapEx will decline nearly 50% year-over-year, and reflects a much slower ramp of our 1-beta DRAM and 232-layer NAND versus prior expectations." Sanjay Mehrotra, Micron CEO
The other memory vendors will follow suit, with Samsung and Kioxia announcing cuts to pricing, wafer starts, and/or fabrication equipment spending. It should be noted that Micron and others will continue to build the fab facilities and keep existing EUV orders in place. They will be delaying equipment spending on DUV and other fabrication tools significantly. There will be a different spending profile and degree of cuts with NAND versus DRAM industry.
Source https://semianalysis.substack.com/p/semiconductor-fab-buildout-delays