Established in 1981, SAS (Sino-American Silicon Products Inc.) is the largest supplier of 3″~12″ wafers domestically at present, possessing complete production lines. Our major products include semiconductor, solar and sapphire, application expands to solar, photovoltaic and daily energy. Our high value products include CZ/FZ/NTD Silicon ingots, Epi wafers, polished wafers, Antimony-doped wafers, etched wafers, TVS wafers, Arsenic-doped wafers, ultra thin wafers, deep diffusion wafers, solar ingot and wafers, cells, modules and Sapphire wafers. Owing to contribution of management team and entire staff, SAS operation performance always breaks record. Whether in terms of providing technology and information, developing products cooperatively, or sales/service quality, SAS has received firm approval from both domestic and foreign customers, and been rewarded as best seller of the year. In 2011, SAS was ranked third runner-up in Business Next Magazine Taiwan INFO TECH TOP 100.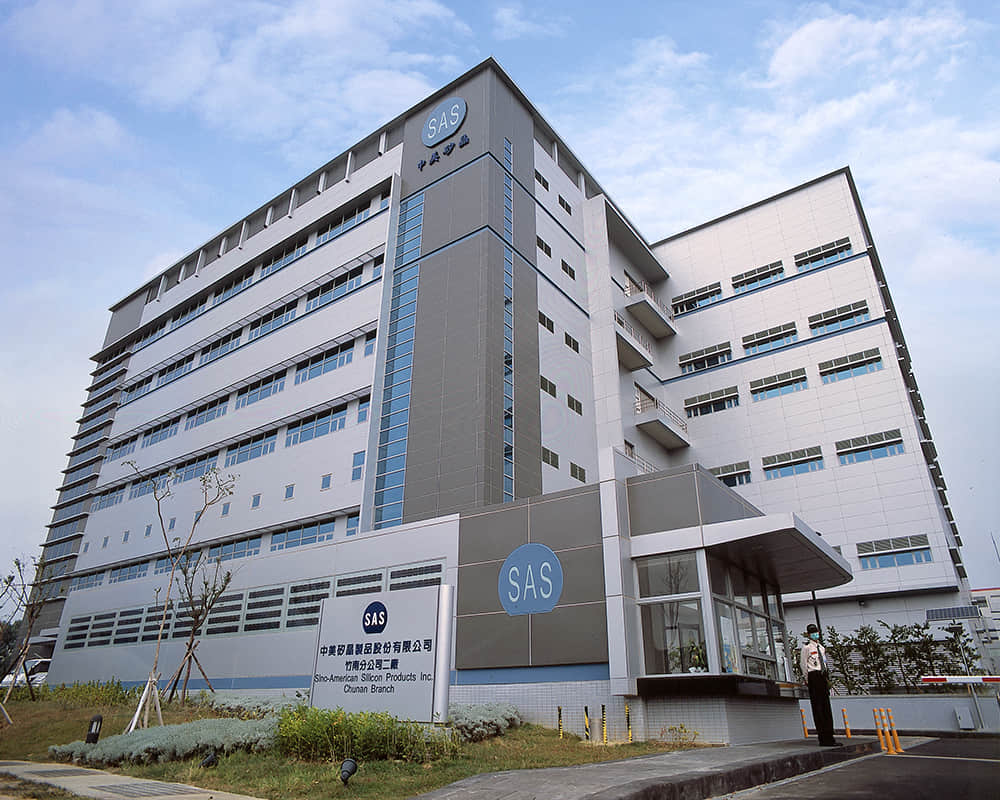 To maximize operation and performance of semi conductor, solar and sapphire business units, SAS has finished carve-out semiconductor and sapphire business on October 1, 2011. SAS shall continue solar business, semiconductor business is carved out to GlobalWafers Co., Ltd., while sapphire business to Sino Sapphire Co., Ltd., both are 100% owned by SAS. In order to combine resources, integrate pattern and R&D advantages, Sino Sapphire and Crystalwise merge on January 1st, 2013. Crystalwise is the surviving company.
In order to realize international social responsibility and to create excellence for customers, shareholders and employees, SAS management team and entire staff shall devote in solar products expansion, quality improvement and customer satisfaction, SAS aims at becoming the best supplier in green energy industry and providing total solution.
Established SAS Chunan
Anticipating the initiative of alternative energy, SAS started to develop upstream materials for the solar industry in 2000, becoming the first company capable of ingot mass production. SAS is also the first producer of high-quality solar ingots. Responding to market demand, our branch company (SAS Chunan) in Chunan, Taiwan, set up in 2005, formally produced high-quality solar mono/multi ingots and wafers in the second quarter of 2006. To meet the emerging market trends of multi crystal, SAS Chunan started to develop and successfully mass produce solar multi ingots and wafers in the fourth quarter of 2006. With our aggressive efforts, SAS becomes one of the few manufacturers who possess not only solar mono crystal technology but also solar multi crystal technology in the global market. Furthermore, SAS Chunan established Optoelectronics Business Unit (OBU) to develop LED technology in 2007. Then, it started to have mass production of sapphire wafers in the third quarter of 2007. In June, 2008, the strong-soaring demand from solar wafers leads to Fab.I full utilization. In June, 2010, SAS Chunan completed the construction of Fab.II to materially expand the capacity threefold. SAS Chunan will continually devote itself to expand solar energy and optoelectronics products, constantly improves quality, satisfies customer requirements and provides total solution.
Yilan Branch Office Established
In 2014 to implement the vertical integration of solar business groups for the enhancement of operational performance and competitiveness, SAS established a new branch office at Yilan by merging Sunrise Global Solar Energy. Sunrise, as one of the world's leading solar cell manufacturers, mainly provided P type high efficiency solar cells, which outstands in the world with both the highest and average conversion efficiency domestically. Meanwhile this company had acquired from May 16th, 2014 at Prenzlau in Germany the Aleo Solar AG company's solar module fab of 280MW, land, technology, equipment and the ownership of its trademark right etc. By this significant takeover brings the SAS groups a successful extension from the result of product differentiation to the creation of its brand value while that further promotes Taiwan's solar industry on a firm foundation in the cell field and worldwide marketing with Aleo's module brand. In addition, the integration also makes it realized for the SAS to develop technology and capacity of both the mono solar cell and module business that achieve the benefit of vertical integration and the extension of solar energy business.
Solar Plant System
In 2015 in order to increase operation benefits of the business group, SAS aggressively stepped into solar power generation by investing through SAS Sunrise Inc., its subsidiary, the first 50MW solar power plant "SEPALCO" broken ground on July 3rd at Palo city in Philippines. SAS will continue to expand the business allocation in the global solar system.
All the way SAS experienced numerous trials on route to its robust growth. Our great achievements in solar wafers, cells and modules manufacture has made SAS one of the outstanding green energy suppliers. We emphasize on sound structure and actual performance evaluation, dedicating to R&D and specialty advancement. As for human resource, we focus on employee training and recruit experienced managers to strength organization. With great quality and service, SAS expands business spectrum and market share.
High Quality Multi-Crystalline Silicon Materials
product2
Pseudo Square Mono Crystalline Wafer
High Wafer
High Efficiency Multi Crystalline Wafer
product6
Solar Cell
admin-ajax
Solar Module
GaN Epitaxial Wafer